Dede Evavold is scheduled to appear in court tomorrow for an emergency hearing about her continual harassment of David Rucki, his children, and other members of the Rucki family.
The emergency court hearing was scheduled after Lisa Elliott, who serves as the attorney for the Rucki family, filed an emergency motion with the court earlier this month which included over 200 pages of exhibits documenting Evavold's repeated violations of a Harassment Restraining Order (HRO) granted by a court in Dakota County in July 2017.
Evavold was convicted in September 2016 of six felonies for her role in the disappearance of Samantha Rucki and her sister Gianna, who were abducted near their home on Lakeville by their mother Sandra Grazzini-Rucki, during a custody and divorce proceeding.
Tomorrow's hearing will be nearly the tenth court hearing held in the last year related to Evavold's persistent harassment of the Rucki family. Both in and out of the courtroom Evavold has shown contempt for the Rucki family and the legal system.
Evavold was so brazen to even flash the "victory" sign as she walks into a courthouse in Dakota County last year for a hearing about her harassing and threatening behavior. 
Court granted restraining order against Evavold
As previously reported by Missing in Minnesota, Evavold has repeatedly violated the explicit terms of her probation and the HRO by continuing to reference the Rucki family in her use of social media.
Last July, a court in Dakota County has found that "an immediate and present danger of harassment" by Dede Evavold exists to warrant the granting of an HRO requested by David Rucki and his daughter, Samantha Rucki, against Evavold.
The court further found that there are "reasonable grounds to believe that [Evavold] has harassed [David Rucki and Samantha Rucki] (or minor children included in the petition)…"
Specifically, the court found that Evavold "made threats" to David Rucki and Samantha Rucki, and that "the harassment has had or is intended to have a substantial adverse effect on [David Rucki and Samantha Rucki's] safety, security, or privacy."
Evavold is prohibited from having any "direct or indirect contact" with David Rucki, Samantha and Gianna Rucki, and two other minor Rucki children. Evavold is also prohibited from naming "any member of the Rucki family in any blog posting, social media posting, or internet posting."
Criminal trial scheduled for Evavold's harassment of Rucki family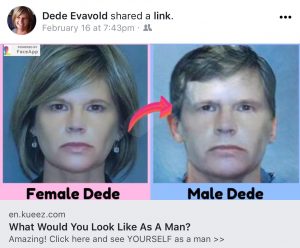 In the last year, Evavold's blog has posted pictures of the Rucki family, their home in Lakeville, and the address to the home, in violation of the HRO and the conditions of her probation.
Evavold was charged in September 2017 with three criminal counts of violating the HRO granted by a court in Dakota County in July 2017.
Dede Evavold's criminal trial for her repeated HRO violations has been scheduled for April 23, 2018.
Evavold was warned by a judge at a court hearing in Dakota County last October that she could face additional criminal charges, including gross misdemeanor and felony charges if she continues to violate the HRO. Evavold violated the HRO just hours after being warned by the judge, and she continues to target and harass the Rucki family.
Evavold recently mocked her criminal conviction and the damage she caused to the Rucki family by repeatedly posting her mugshot on Facebook edited to disguise Evavold as a man.
New probation violations to be filed against Evavold
Last August, Dakota County Community Corrections filed a Probation Violation Report with Dakota County District Court. At a court hearing last November, Assistant Dakota County Attorney Kathy Keena requested the hearing be postponed in part to allow Keena to file new probation violations against Evavold.
Judge Karen Asphaug scheduled the next hearing for June 6, 2018, where a determination will be made if Evavold has violated the conditions of her probation.
Evavold has pattern of lying on social media, in court documents, and to law enforcement
Evavold has a documented pattern of posting lies on social media, lying in documents submitted to the court, and also lying to law enforcement.
Earlier this month, Evavold's blog has published a malicious post claiming David Rucki murdered three of his children while married to Sandra Grazzini-Rucki.
Last month, Evavold falsely claimed she "filed a police report against David Rucki on 12/6/2017 with the Lakeville Police Dept…" According to Evavold's motion, she filed a police report against David Rucki for "falsely reporting a crime" committed by Evavold.
The Lakeville Police Department later confirmed that Evavold did not file a police report against David Rucki as she claimed.
Evavold also has an extensive and documented record of making false statements to the public and lying to law enforcement.
In an interview from September 2015, Evavold told me, "I'm an honest person Michael, you'll always get truth with me."
The truth is that with Evavold, you get everything but the truth.
During Evavold's criminal trial, Assistant Dakota County Attorney Kathy Keena provided the jury with numerous examples of how Evavold withheld information from law enforcement and the girls' father about the location of the missing sisters and lied about her involvement in their disappearance.
Deputy U.S. Marshal Matthew Palmer testified that he interviewed Evavold at her home on August 25, 2015, about the disappearance of the Rucki sisters.
Palmer said he asked Evavold if the Rucki girls were in danger or dead, in which Evavold responded, "for all I know, they could be."
Detective Kelli Coughlin with the Lakeville Police Department testified that Evavold told law enforcement at her home that she didn't know where Samantha and Gianna were.
Evidence presented during Evavold's trial showed that her phone contained audio files of the missing sisters talking and pictures taken after they disappeared in 2013 which helped pinpoint their location.