Dakota County Community Corrections has requested the issuance of a summons/warrant for Dede Evavold based on a Probation Violation Report filed with Dakota County District Court earlier today.
The details of the report are not available to the public at this time but as reported by Missing in Minnesota, Evavold has repeatedly violated the terms of her probation by mentioning the Rucki family in her use of social media.
Evavold has also violated a recently granted Harassment Restraining Order (HRO) which specifically restricted her from harassing and threatening the Rucki family by mentioning them in her use of social media.
A court hearing will be scheduled about the Probation Violated Report when the court signs the request for a summon/warrant for Evavold.
Evavold was sentenced on November 10, 2016 after being found guilty of six felony charges related to her involvement in the disappearance of Samantha and Gianna Rucki, who were abducted by their mother near their home in Lakeville, Minnesota on April 19, 2013.
On July 31, 2017, Evavold was served with the HRO at her home in St. Cloud which was granted by a court in Dakota County at the request of David Rucki and his daughter, Samantha Rucki, against Evavold. Days earlier, a court in Dakota County ruled that "an immediate and present danger of harassment" by Evavold existed to warrant the granting of the HRO.
The HRO requested by David Rucki and Samantha Rucki also protects Gianna Rucki and two other minor Rucki children from being harassed by Evavold. Since the HRO was granted and served on Evavold she has repeatedly violated the HRO and thus the conditions of her probation which were imposed at her sentencing hearing last year.
Court instructed Evavold not to mention Rucki family on social media
Evavold is not an attorney, but is an activist, who also runs a blog focused on exposing what Evavold and her supporters believe are injustices and corruption in the judicial system. She represented herself during her criminal trial.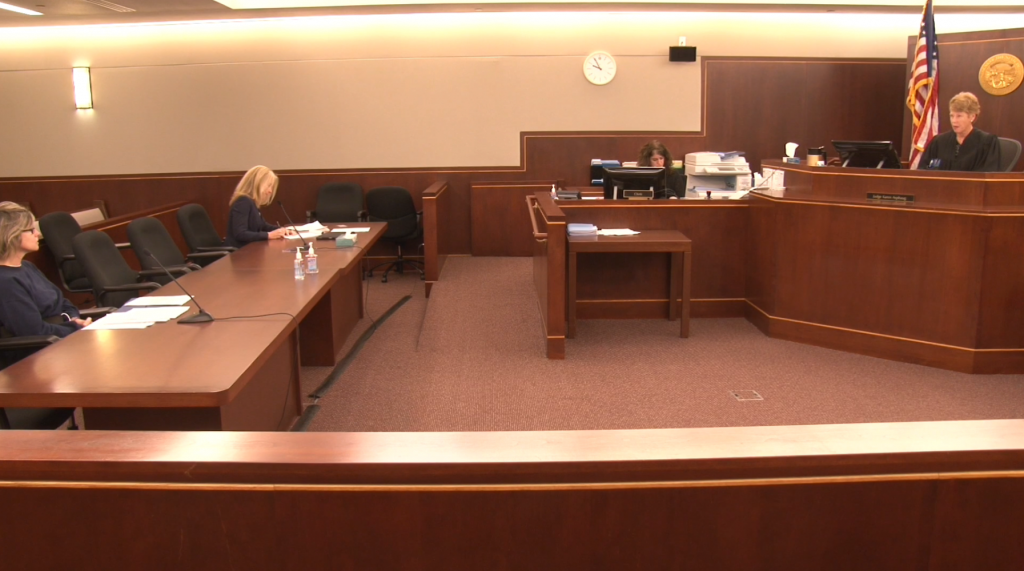 At her sentencing hearing, Judge Asphaug instructed Evavold that she was forbidden from making references to the Rucki family on social media for the length of her probation – eight years.
"You will make no reference to any member of the Rucki family, and that includes the children, Mr. Rucki, Ms. Love, any member of the Rucki family. You will make no reference to them in your use of social media," said Judge Asphaug during Evavold's sentencing hearing on November 10, 2016.
Click here to watch video of Judge Asphaug's instructions to Evavold.
Immediately upon release from jail Evavold began harassing and threatening the Rucki family by mentioning them in her use of social media.
Evavold even posted a picture of the Rucki family home in Lakeville, and she posted a picture surreptitiously taken of the Rucki family talking with their attorney before they entered a courtroom for a hearing.
Every post which mentions the Rucki family is a clear violation of the terms of her probation.
Evavold failure to comply with HRO is another violation of her probation
Judge Asphaug imposed numerous probation restrictions on Evavold. Specifically, Judge Asphaug said:
"You will have no contact with minor children from other families. You will not be allowed to have contact with other minors from other families. You will abide by any restraining orders that exist now or in the future.
That includes Orders for Protection, Harassment Restraining Orders, also any other civil restraining order that prohibits you from having contact with any person or going to any place."
While Evavold is prohibited from having any contact with minor children, yet she is still harasses three minor Rucki children.
Since the time of the her sentencing hearing, Evavold has served 118 days in jail and she remains on probation for another seven years.
David Rucki and his family grew tired of the continued harassment from Evavold after was released from jail, and David and Samantha made the decision to request an HRO which was granted on July 27, 2017, and served on Evavold days later.
Evavold's posts on social media which mention the Rucki family are both a violation of her probation and a violation of the HRO. Her failure to follow the conditions of the HRO are also a separate probation violatio
Please follow Missing in Minnesota on Twitter and Facebook for updates on Evavold's violations.