Sandra Grazzini-Rucki, who claims she is "homeless" and "penniless", had money deposited in a Canadian financial services corporation as recently as December 2017, according to information mistakenly included in a post on Dede Evavold's blog.
The news of Grazzini-Rucki having financial assets in Canada comes weeks after the discovery that Grazzini-Rucki has been actually living in a waterfront estate community in Florida under an assumed name.
As previously noted on Missing in Minnesota, Grazzini-Rucki has falsely claimed she is homeless and destitute in an attempt to manipulate public opinion and the legal system for nearly six years.
In reality, Grazzini-Rucki had access to over $2 million from her family in the last eight years and the total amount of her current net worth is unknown.
The use of foreign banks to hide assets shows the depth of Grazzini-Rucki's efforts to mask her true lifestyle.
Grazzini-Rucki was convicted in July 2016 of six felonies for her role in in the disappearance of her daughters. Dede Evavold, a friend of Grazzini-Rucki, was found guilty in September 2016 on six felony counts of deprivation of parental rights related her involvement in disappearance the girls.
Grazzini-Rucki's false claims of being "homeless" and "penniless" are part of a documented pattern of lies from Grazzini-Rucki, who admitted during her criminal trial that she had repeatedly been "dishonest" in previous court hearings.
Dede Evavold's blog mistakenly exposes Grazzini-Rucki had assets in Candian trust company
Yesterday, Dede Evavold's blog published another post with unfounded and false allegations about David Rucki and his family.
Included in the post was a picture of financials documents which have never appeared in court records involving Grazzini-Rucki and which showed she had an account at AST Trust Company (Canada).
The picture posted on Evavold's blog showed Grazzini-Rucki's account with AST Trust Company (Canada) was opened on September 22, 2017, had shares withdrawn on October 2, 2017, and had a zero balance as of December 17, 2017. The document pictured on Evavold's blog also contained instructing for the account holder to register with a Canadian website "for an Investor Central account" to view information about the plan with AST Trust Company (Canada).
AST Financial has a separate website for accounts based in the United States.
There is no record of Grazzini-Rucki ever having a trust account with AST Financial in the United States, nor with any financial institutions in Canada.
'Homeless' Sandra Grazzini-Rucki using an alias and living in waterfront estate community in Florida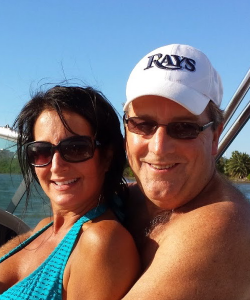 Last month Missing in Minnesota published information based on public records which showed that a person named "Jaclyn Auld" with the same birthday as Grazzini-Rucki was residing with Jack Auld in Clearwater, Florida.
Grazzini-Rucki's address was also recently updated in the public court file to Auld's Florida home after court documents sent to Grazzini-Rucki's previous mailing address were returned to the court by the United States Postal Service (USPS) with Grazzini-Rucki's new Florida address.
Grazzini-Rucki had been using the residential address of her family court attorney Michelle MacDonald as her mailing address. Based on records with the USPS, the mail forwarding service expired on December 14, 2017.
Auld was with Grazzini-Rucki at the Star Island Resort and Club in Kissimmee, Florida on October 18, 2015, when she was located by the United States Marshals Service a month before Samantha and Gianna Rucki were found.
Mr. Auld had reportedly cooperated with law enforcement and helped lead them to Grazzini-Rucki.
Auld has described Grazzini-Rucki as his "best friend" and "soul mate."
Grazzini-Rucki currently resides at waterfront property described as "resort style living"
Grazzini-Rucki is living at a property described as "resort style living" with "spectacular, expansive water views." The waterfront property features a spa, pool, sauna, a tiki bar, and marina with private boat slips.
Michelle MacDonald claimed in an affidavit filed with the Minnesota Supreme Court last September that Grazzini-Rucki was "homeless." MacDonald's law license will be suspended on Wednesday for a minimum of 60 days in part for her misrepresenting facts while serving as Grazzini-Rucki's attorney.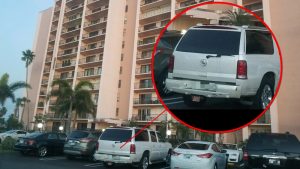 Supporters of Grazzini-Rucki have gone so far as to claim that Grazzini-Rucki "relies on couch surfing" and eats "cold cans of Spaghetti-O's in order to survive."
Grazzini-Rucki's luxury Cadillac Escalade was also found parked at waterfront estate in Florida where she has been living.
Public records show the ownership of Grazzini-Rucki's luxury Cadillac Escalade has been transferred to Jack Auld.
Grazzini-Rucki and her supporters have repeatedly claimed that she is "homeless" and has no financial resources. But it is unusual for homeless people and others with limited financial resources to give away luxury vehicles.
The use of public documents to locate Grazzini-Rucki was conducted by Missing in Minnesota in the last few months to refute the false claim that Grazzini-Rucki is homeless.
Missing in Minnesota has not attempted to contact Grazzini-Rucki, nor will an attempt be made. Although Grazzini-Rucki's address is now available in the public court file, Missing in Minnesota will not publish her address.
David Rucki was awarded full custody of all five of his children in November 2013, while two of his daughters remained missing. David Rucki was reunited with his daughters days after they were found on a rural ranch in northern Minnesota.
They live with him and their other siblings at the family's home in Lakeville.
Allison Mann contributed to this story.