UPDATE (12:00 PM, Friday, May 3, 2018) – Kimberley and Jay Bukstein's names are back on the public roster for ADR Rule 114 Qualified Neutralsfor the Minnesota State Court Administrator's Office. Staff for the Minnesota State Court Administrator's Office could not provide any information on the changes to their status. The story below has been updated.
__________
UPDATE (4:30 PM, Thursday, May 3, 2018) – Kimberley and Jay Bukstein are no longer listed on a published roster of ADR Rule 114 Qualified Neutrals published by the Minnesota State Court Administrator's Office. The removal of the Buksteins from the published list was done in the last 24 hours. The story below has been updated.
__________
UPDATE (5:15 PM, Wednesday, May 2, 2018) – Twitter sent me an updated report about Kimberley Bukstein. According to Twitter, Mrs. Bukstein violated Twitter's rules "against participating in targeted abuse."
__________
UPDATE (2:00 PM, Wednesday, May 2, 2018) – Twitter has suspended Kimberley Bukstein's account for "participating in abusive behavior." Mrs. Bukstein sent me 17 abusive messages in just two hours on Sunday morning.
__________
UPDATE (3:30 PM, Sunday, April 29, 2018) – I received 17 messages from Kimberley Bukstein via Twitter from 1:51 AM to 3:57 AM. This is why I was awakened in the night. Her husband Jay Bukstein "liked" many of the tweets. They have been told once again to cease all contact with me, my family, and Allison Mann.
__________
UPDATE (6:00 PM, Thursday, April 26, 2018) – Jay Bukstein, Kimberley's husband sent harassing and threatening email in the last couple of days. Bukstein was instructed once again to stop contacting me. He then sent another threatening email. Troubling behavior by both Kimberley and Jay Bukstein.
__________
UPDATE (10:40 AM, Tuesday, April 24, 2018) – Missing in Minnesota uncovered this morning that Kimberley Bukstein was criminally charged in North Carolina last year with making harassing phone calls. Bukstein's criminal case is currently pending. Based on the number of phone calls I've received from Bukstein, I'm not surprised. Stay tuned for updates.
__________
UPDATE (3:15 PM, Monday, April 23, 2018) – Kimberley Bukstein sent two emails late last night which provided her legal opinion (she is not a lawyer) that numerous posts on Missing in Minnesota violate the provisions of the user agreements on multiple platforms. Her emails were abusive, threatening, and harassing.
Two phone calls were also placed yesterday to a company that provided technical support for Missing in Minnesota. Bukstein made one call, Angela Young made the other call. Young threatened legal action in her voicemail message. Aside from threatening legal action, Young made numerous false statements in her voicemail message.
__________
Kimberley Bukstein, a self-described "civil-rights advocate" who was disciplined for the unauthorized practice of law, has sent repeated threatening and harassing communications over the last few days in an attempt to shut down Missing in Minnesota.
Bukstein is connected with Dede Evavold, Sandra Grazzini-Rucki, Michelle MacDonald, and Angela Young, and in one voicemail, Bukstein falsely claimed she as "a citizen officer" with the St. Paul Police Department.
During a phone call on the evening of April 19, 2018, Bukstein made threats about a pending lawsuit and said the website should be shut down. After the phone call ended Bukstein sent a text message again threatening litigation. In response, Bukstein was sent a text message informing her that the St. Paul Police Department would be notified that she was impersonating a police officer. Bukstein was also instructed to cease making contact with Missing in Minnesota.
Bukstein ignored the instructions and sent six additional text messages and made three more phone calls. At 11:16 PM, Bukstein's husband called and made threats during a brief phone conversation. He was also instructed not to make any further contact.
In the early hours of April 21, 2018, Bukstein again ignored our request to not make contact and called at 1:47 AM, leaving a threating voicemail which said, "Michael, the gloves are off…now there will be some justice here." Less than an hour later, Bukstein sent a threatening email at 2:42 AM.
Yesterday, Bukstein again ignore instructions to not make contact when she made two phone calls. Bukstein left a signing voicemail message in the form of a limerick. Bukstein sings, "dear Michael is in so much trouble, oh sorry to burst your bubble. Such tweeting does he, well how can that be, is he lurking around seeing double."
Bukstein made another phone call later in the day but did not leave a message. Via text message, Bukstein was again instructed not to make contact.
Law enforcement was later notified about the threatening and harassing communications from the Buksteins.
Both Jay and Kimberley Bukstein are "qualified Rule 114 ADR Neutrals" for the Minnesota State Court Administrator's Office.
Over the last few days, Bukstein and Michelle MacDonald also made contact with the hosting company for our website in an attempt to have the content removed from Missing in Minnesota.
Bukstein also sent an email that falsely claimed I had met her in person and accused me of being a "cyber rapist."
In October 2017, a Harassment Restraining Order was granted against Bukstein by a 73-year-old woman in St. Paul. Bukstein was accused of making unwanted phone calls and leaving messages. The woman testified that Bukstein walked into her home unannounced and uninvited.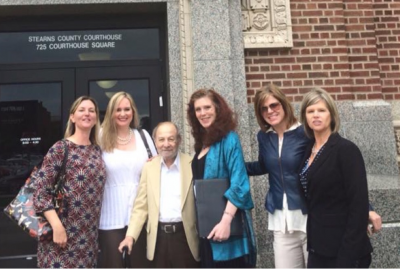 Bukstein connected to Evavold, Grazzini-Rucki, MacDonald, and Young
Bukstein is back working with Dede Evavold, Sandra Grazzini-Rucki, and Angela Young. As she did in Ohio, Bukstein filed complaints in 2013 against nearly every licensed professional involved in the divorce between Sandra Grazzini-Rucki and David Rucki.
Bukstein was pictured (wearing turquoise) with Angela Young (far left), Dale Nathan, and Dede Evavold (far right) outside the Stearns County Courthouse in 2015.
Nathan, who told the Star Tribune in April 2015 that he was in a car driven by Grazzini-Rucki on the night she abducted her daughters near the girls' home in Lakeville on April 19, 2013, died in 2016.
In July 2016, Grazzini-Rucki was found guilty on six counts of deprivation of parental rights for her role in the disappearance of her daughters and Evavold was convicted in September 2016 of six felonies for her role in the disappearance of Grazzini-Rucki's daughters.
In September 2016, Young's name was mentioned in open court during Evavold's criminal trial related to incriminating communications between Evavold, Grazzini-Rucki, and Young sent while the Rucki sisters were missing for 944 days.
In February 2018, Evavold voluntarily testified in an emergency court hearing about her repeated harassment of David Rucki and his family and said Young published posts on her blog under Evavold's name.
MacDonald cited one of Bukstein's complaints in her federal lawsuit against Judge David Knutson.
Young has sent numerous text messages to Missing in Minnesota, threatening a lawsuit should her name be published about her involvement with Evavold, Grazzini-Rucki, and others connected to this case.
Young lives in St. Cloud and she is a licensed marriage and family therapist (LMFT) and works for CORE Professional Services, P.A in Sartell, Minnesota.
Bukstein fined $10,000 for the unauthorized practice of law; Judge testified she was dangerous
In 2013, Bukstein was fined by the Board on the Unauthorized Practice of Law of the Supreme Court of Ohio for practicing law without a license in two divorce cases in Ohio. The original fine against Bukstein was $20,000 – the maximum civil penalty permitted by law. The amount was later reduced to $10,000 by the Supreme Court of Ohio.
According to a report issued on Bukstein's conduct, Bukstein described herself as a "Civil Rights from Minnesota that works on cases all over the nation." Bukstein added that she "specializes in ethics issues arising in litigation and government litigation."
Bukstein identified herself as a "pro se attorney of record" and sat at counsel table during a court until she was asked to remove herself from the table because she was not an attorney.
Judge Thomas J. Capper "testified that he believes [Kimberley Bukstein] is a dangerous person who preys upon individuals susceptible to influence and gives people horrible advice."
The board's report also detailed that Bukstein sent "harassing and potentially threatening emails to individual members of the Panel and making threats to file numerous complaints with various government agencies against the individual panel members and disciplinary counsel."
Below is the report from the Board on the Unauthorized Practice of Law of the Supreme Court of Ohio about Bukstein.

Allison Mann contributed to this story.