Dede Evavold, who may have her probation revoked next month, may have violated her probation again by having contact with co-defendant Sandra Grazzini-Rucki.
Evavold was convicted in September 2016 of six felonies for her role in the disappearance of Samantha Rucki and her sister Gianna, who were abducted near their home on Lakeville by their mother Grazzini-Rucki, during a custody and divorce proceeding.
Evavold's probation conditions specifically restrict contact with "Co-Defendant(s), Sandra Grazzini-Rucki, Gina Dahlen and Douglas Dahlen."
On May 10, 2018, the United States Supreme Court docketed a Petition for Writ of Certiorari filed on behalf of Sandra Grazzini-Rucki regarding the contested child support matter stemming from her divorce from David Rucki.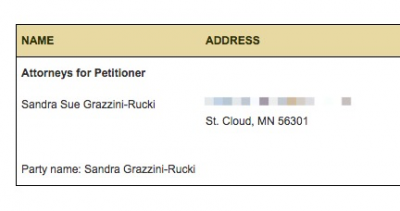 On the Supreme Court docket, Grazzini-Rucki appears as a pro se party. However, her address is listed as Evavold's home in St. Cloud, Minnesota.
Missing in Minnesota has redacted Evavold's address from a screen capture of the public filing available on the website of the United State Supreme Court.
According to Stearns County Community Corrections, Grazzini-Rucki will be living at an address in Stearns County while she is on supervised probation.
An exact address for Grazzini-Rucki is not publicly available.
Grazzini-Rucki has no known relatives that live in Stearns County, but a small number of her remaining supporters live in the area, including Evavold.
By filing a Petition for Writ of Certiorari, Grazzini-Rucki is requesting that the US Supreme Court review the decision of the lower court regarding her child support obligations.
Filed with the Petition for Writ is a Motion for Leave to Proceed In Forma Pauperis in which Grazzini-Rucki claims again to be homeless, penniless and destitute – a claim which has since been refuted.
Missing in Minnesota reported yesterday that Grazzini-Rucki had requested that her supervised probation is transferred from Minnesota to her home state of Flordia.
Criminal trial scheduled for Evavold's harassment of Rucki family
Evavold was charged in September 2017 with three criminal counts of violating the HRO granted by a court in Dakota County in July 2017.
Dede Evavold's criminal trial for her repeated HRO violations has been scheduled for July 23, 2018.
Evavold was warned by a judge at a court hearing in Dakota County last October that she could face additional criminal charges, including gross misdemeanor and felony charges if she continues to violate the HRO. Evavold violated the HRO just hours after being warned by the judge, and she continues to target and harass the Rucki family.
New probation violations to be filed against Evavold
Last August, Dakota County Community Corrections filed a Probation Violation Report with Dakota County District Court. At a court hearing last November, Assistant Dakota County Attorney Kathy Keena requested the hearing be postponed in part to allow Keena to file new probation violations against Evavold.
Judge Karen Asphaug scheduled the next hearing for June 6, 2018, where a determination will be made if Evavold has violated the conditions of her probation.
At her sentencing hearing on November 20, 2016,  Judge Asphaug said to Evavold, "You have shown no remorse or understanding or comprehension of your actions."
It was not clear then, and it remains unclear today, why Evavold continues to be involved with the Rucki family or any of the cases.
Follow Missing in Minnesota on Twitter and Facebook for the latest news on Evavold's probation.
Michael Brodkorb contributed to this story.