A judge in Dakota County granted Harassment Restraining Orders (HRO) against two supporters of Dede Evavold, Sandra Grazzini-Rucki, and Michelle MacDonald for harassing Michael Brodkorb for the past year.
The HROs were filed separately by Brodkorb against Kimberley Bukstein and her husband, Jay Bukstein, who reside together in St. Paul, Minnesota. The HROs remain in effect until March 14, 2021.
Kimberley Bukstein is a self-described "civil-rights advocate" who was fined $10,000 for the unauthorized practice of law in Ohio in 2013. Both Kimberley and Jay Bukstein are also "qualified" Rule 114 ADR Neutrals for the Minnesota State Court Administrator's Office. The Buksteins are referenced in the new best-selling true crime book,  The Girls Are Gone, which was written by Brodkorb and Allison Mann.
In the last year, the Buksteins have repeatedly initiated episodes of unwanted and aggressive contact with Brodkorb via email, text messages, and phone calls. Despite being instructed to cease all contact on countless occasions, the Buksteins continued to contact Brodkorb until they were served with the HROs last month. Twitter accounts connected to both Kimberley and Jay Bukstein were suspended in the last year for engaging in harassment or abusive conduct toward Brodkorb.
Over the last few weeks, the emails, text messages, and phone calls from the Buksteins became more threatening and dangerous.
Emails from Kimberley Bukstein included statements that she was suicidal and that she would soon hang herself with a rope. She sent other emails containing numerous sexual references, a video of her chanting (below) in an unknown language over a copy of  The Girls Are Gone, and an offer to bake for Brodkorb so he could "taste [Kimberley Bukstein's] soul."
Many of the emails sent from Kimberley Bukstein to Brodkorb were also sent to Dede Evavold, Michelle MacDonald, and Angela Young. The most concerning emails and texts from Kimberley Bukstein made references to Brodkorb's children and language suggesting that she was watching Brodkorb from outside his home late at night.
Emails from Jay Bukstein contained numerous threats and profane language. One email from him included a request to come live with Brodkorb at his home.
A court hearing – requested by the Buksteins – about the HROs will be held at the Dakota County Northern Service Center in West St. Paul, Minnesota on April 8, 2019, at 9 AM.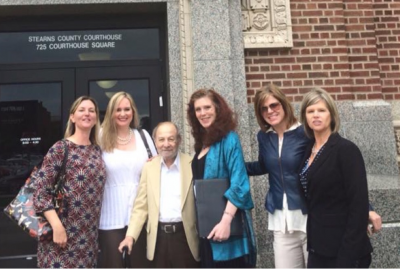 Bukstein connected to Evavold, Grazzini-Rucki, MacDonald, and Young
In the last 6 years, Kimberley Bukstein worked directly with a group of people involved in the legal drama related to the disappearance of Samantha and Gianna Rucki: Dede Evavold, Sandra Grazzini-Rucki, Michelle MacDonald, and Angela Young.
Bukstein filed complaints in 2013 against nearly every licensed professional involved in the divorce and custody dispute between Sandra Grazzini-Rucki and David Rucki.
Bukstein was pictured (wearing turquoise) with Angela Young (far left), Dale Nathan, and Dede Evavold (far right) outside the Stearns County Courthouse in 2015.
Nathan, who told the Star Tribune in April 2015 that he was in a car driven by Grazzini-Rucki on the night she abducted her daughters near the girls' home in Lakeville on April 19, 2013, died in 2016.
In July 2016, Grazzini-Rucki was found guilty on six counts of deprivation of parental rights for her role in the disappearance of her daughters and Evavold was convicted in September 2016 of six felonies for her role in the disappearance of Grazzini-Rucki's daughters.
In September 2016, Young's name was mentioned in open court during Evavold's criminal trial related to incriminating communications between Evavold, Grazzini-Rucki, and Young sent while the Rucki sisters were missing for 944 days.
In February 2018, Evavold voluntarily testified in an emergency court hearing about her repeated harassment of David Rucki and his family and said Young published posts on her blog under Evavold's name.
Young has sent numerous text messages to Missing in Minnesota, threatening a lawsuit should her name be published about her involvement with Evavold, Grazzini-Rucki, and others connected to this case.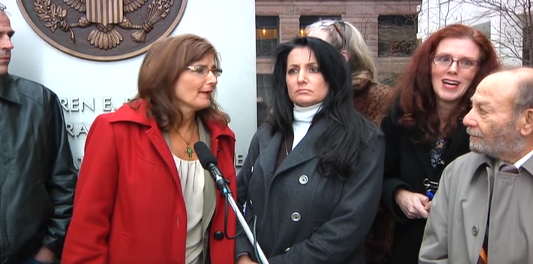 In April 2018, Young contacted a company which provided technical support for Missing in Minnesota and threatened legal action in her voicemail message. Aside from threatening legal action, Young made numerous false statements in her voicemail message about the work of Missing in Minnesota.
In her voicemail message, Young said she was a marriage and family therapist and later defended both Evavold and Bukstein.
MacDonald cited Bukstein's work in her federal lawsuit against Judge David Knutson and Bukstein appeared with MacDonald, Grazzini-Rucki, and Nathan at a press conference about MacDonald's lawsuit.
Bukstein fined $10,000 for the unauthorized practice of law; Judge testified she was dangerous
In 2013, Bukstein was fined by the Board on the Unauthorized Practice of Law of the Supreme Court of Ohio for practicing law without a license in two divorce cases in Ohio.
According to a report issued on Bukstein's conduct, Bukstein described herself as a "Civil Rights from Minnesota that works on cases all over the nation." Bukstein added that she "specializes in ethics issues arising in litigation and government litigation."
Bukstein identified herself as a "pro se attorney of record" and sat at counsel table during a court until she was asked to remove herself from the table because she was not an attorney.
Judge Thomas J. Capper "testified that he believes [Kimberley Bukstein] is a dangerous person who preys upon individuals susceptible to influence and gives people horrible advice."
The board's report also detailed that Bukstein sent "harassing and potentially threatening emails to individual members of the Panel and making threats to file numerous complaints with various government agencies against the individual panel members and disciplinary counsel."
Additional Harassment Restraining Orders granted against Kimberley and Jay Bukstein
In May 2016, an HRO was granted against Kimberley and Jay Bukstein by a woman in Sherburne County. The Buksteins were alleged to have made repeated unwanted visits and phone calls.
In October 2017, an HRO was granted against Kimberley Bukstein by a 73-year-old woman in Ramsey County. Bukstein was accused of making unwanted phone calls and leaving messages. The woman testified that Bukstein walked into her home unannounced and uninvited.
Please follow Missing in Minnesota on Twitter and Facebook for updates on the legal developments involving Kimberley and Jay Bukstein.