The Office of Administrative Hearings will convene a three-judge panel tomorrow for an evidentiary hearing on a campaign complaint filed against Michelle MacDonald, who was a candidate for the Minnesota Supreme Court in 2016.
The court hearing will be at the Office of Administrative Hearings at 9:30AM in St. Paul.
Just days before the election, Judge Jessica A. Palmer-Denig ordered there was probable cause to believe MacDonald violated the Minnesota Fair Campaign Practices Act by falsely claiming her current campaign for the Minnesota Supreme Court had received the endorsement of the Republican Party of Minnesota.
MacDonald was soundly defeated by incumbent Minnesota Supreme Court Justice Natalie Hudson on Election Day.
Complaint alleges MacDonald's false claim of endorsement was a "knowing and intentional violation" of campaign laws
Judge Palmer-Denig held a hearing in November on the complaint filed against MacDonald by Barbara Linert of Eagan and Steve Timmer of Edina, who claim MacDonald provided false information to the Star Tribune for publication in their "Voter Guide."
In 2014, MacDonald was the Republican endorsed candidate for the Minnesota Supreme Court against Justice David Lillehaug. MacDonald lost to Lillehaug by just 7 points — 53 percent to 46 percent in November 2014.
Earlier this year, MacDonald announced she would run again for the Minnesota Supreme Court, but she was not endorsed by the Republican Party of Minnesota after Republicans decided not to endorse judicial candidates.
The Star Tribune published information provided by MacDonald claiming an endorsement from the "GOP's Judicial Selection Committee 2016."
In her order from November, Judge Palmer-Denig concluded "that probable cause exists to believe [MacDonald] violated Minn. Stat. § 211B.02 by claiming the endorsement of the 'GOP's Judicial Selection Committee 2016."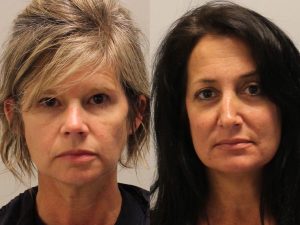 More legal trouble ahead for MacDonald 
MacDonald also serves as Sandra Grazzini-Rucki's family court attorney.
An attorney complaint was filed against MacDonald in August related to her legal representation of Grazzini-Rucki in family court. A two-day hearing on the complaint was held on November at the Minnesota Judicial Center.
The decision on whether to suspend MacDonald's law license is expected in January.
MacDonald was labeled in April 2015 as a "person of interest" by the Lakeville Police Department in the disappearance of Samantha and Gianna Rucki.  MacDonald refused to cooperate with the Lakeville Police Department's investigation into her possible involvement in the disappearance of the sisters  – even after public statements from her that she would cooperate in the investigation.
Her criminal defense attorney, Stephen Grigsby, said in 2015 that he would advise MacDonald to not speak with the Lakeville Police Department.
Grazzini-Rucki was found guilty in July on six counts of deprivation of parental rights for her role in the disappearance of her daughters. MacDonald's campaign manager in 2014, DeDe Evavold, was also found guilty last month for her involvement in the disappearance of the Rucki sisters.
The girls' father, David Rucki was awarded full custody of all five of his children in November 2013, while two of his daughters remained missing.
On November 18, 2015 – 944 days after they disappeared – the girls were found living on a ranch in northern Minnesota by law enforcement, headed by the Lakeville Police Department. Rucki was reunited with his daughters days after they were found and they live with him at the family's home in Lakeville.
Below is the full order from Judge Palmer-Denig. Please check back to Missing in Minnesota for updates on the campaign complaint filed against MacDonald.
Order Probable Cause on Campaign Complaint Against Michelle MacDonald – November 3, 2016 by Michael Brodkorb on Scribd