The third day of Sandra Grazzini-Rucki's criminal trial on eight counts of depravation of parental rights continued this morning at the Dakota County Judicial Center in Hastings. Grazzini-Ricki has been charged related to the disappearance of her two daughters, Samantha and Gianna Rucki, who ran from their home in Lakeville on April 19, 2013.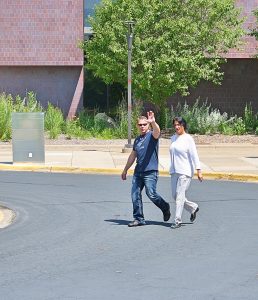 Before the jury was seated for the morning's testimony from witnesses, Stephen Grigsby, who is Sandra Grazzini-Rucki's attorney, disclosed to the court that Grazzini-Rucki's boyfriend, Michael Rhedin, had served a subpoena on David Rucki at a family court hearing to compel the testimony of Gianna Rucki, who is 16 years-old.
Grazzini-Rucki's attorney previously told the court that he issued a subpoena for Samantha Rucki to testify in her mother's criminal trial. According to statements made in court, there is a disagreement as to whether the subpoena issued for Samantha Rucki was properly served.
Grigsby asked the court to enforce the subpoena he issued for both Samantha and Gianna Rucki. The court has the authority to issue a warrant for the arrest of both sisters, if it is determined they were properly served with a subpoena to testify.
Michael Rhedin, who has been identified in court documents as Grazzini-Rucki's boyfriend, served the subpoena issued by Grigsby. During the first day of the trial, Grigby said Rhedin would be witness for Grazzini-Rucki, but will now not be called to testify.
In 2014, Rhedin pleaded pleaded guilty to bringing a firearm into an elementary school in Lakeville, Minnesota. Rhedin entered the school to serve a subpoena issued by Grazzini-Rucki's family court attorney, Michelle MacDonald, for school records. Continue reading →