Sandra Grazzini-Rucki has failed to report to the Dakota County Jail, as required per the conditions of her sentence after being convicted for her role in the disappearance of daughters for 944 days.
Grazzini-Rucki was ordered to report to the Dakota County Jail in Hastings, Minnesota by 8:00 AM, on Saturday, November 18, 2017. She is over four days late for reporting to jail, and a warrant has not been issued for her arrest.
The fact that Grazzini-Rucki is not in jail should scare you.
Grazzini-Rucki recently lost the appeal of her criminal conviction, and she is scheduled to be sentenced again on December 14, 2017. She knows that she is going back to jail, and Grazzini-Rucki has no incentive to voluntarily report to jail.
Over the last 17 months, Missing in Minnesota has reported on the continuing developments involving Grazzini-Rucki, and the other adults charged and prosecuted for their criminal roles in the disappearance of Grazzini-Rucki's daughters.
We've learned during that time how dangerous Grazzini-Rucki has become. In February, we detailed that Grazzini-Rucki had begun a dangerous quest:
"Grazzini-Rucki has started down a very dangerous road. She thrives off of chaos and the attention it brings. Not satisfied with the damage and pain she has already inflicted, Grazzini-Rucki is working to create more lawlessness in society."
In the last year, Grazzini-Rucki's disdain for law enforcement and the court system has become more flagrant, her rhetoric more incendiary, and her behavior increasingly dangerous.
Below is a summary of what Missing in Minnesota has published in the last year about Grazzini-Rucki's threatening behavior. 
Questions raised about Grazzini-Rucki's mental health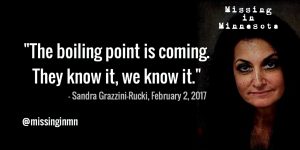 Because of Grazzini-Rucki's erratic behavior, questions have been raised about her overall mental health.
Publicly available court documents contain numerous examples of court-appointed officials and psychologists highlighting concerns with Grazzini-Rucki's mental health.
"Concerns about [Grazzini-Rucki's] mental health have been a central issue throughout these proceedings. Ms. Miles believes [Grazzini-Rucki] addressing her mental health is a key component in Petitioner having a healthy relationship with her children."
"Collateral sources support [David Rucki's] allegation that [Grazzini-Ricki] is mentally unstable."
"Dr. Millenacker previously diagnosed [Grazzini-Rucki] with a personality with narcissistic and histrionic features."
"[Grazzini-Rucki] seems to be out of touch and suffering from a personality disorder, as well as a mood disorder…"
"[Grazzini-Rucki] had a flat affect and showed no emotion when speaking about her missing children.
"[Grazzini-Rucki] never followed her recommendations to seek individual counseling with a therapist who specializes in personality disorders."
Grazzini-Rucki announced her next targets: children, spouses, and family members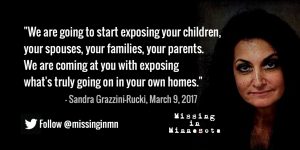 In March, Grazzini-Rucki announced that she and others will be targeting the family members of judges, attorneys, and county staff, including their children.
In an enraged tirade, Grazzini-Rucki said on her podcast:
"When we start exposing that, then we've made it personal. We are not gonna sit back and let you destroy our families because now, what you've done to us and our children and our families, we are now going to transpose it onto you.
We are going to start exposing your children, your spouses, your families, your parents. We are coming at you with exposing what's truly going on in your own home."
Click here to listen to Grazzini-Rucki's comments.
Grazzini-Rucki aligns herself with a man convicted of threatening to shoot a judge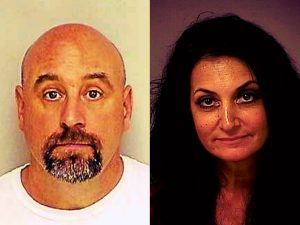 Grazzini-Rucki took her documented threats toward law enforcement, judges, and court staff in Minnesota to a dangerous level by joining forces with a Connecticut man convicted of threatening to shoot a judge.
Grazzini-Rucki hosted a podcast with Edward Taupier, who was convicted in October 2015 of threatening to shoot Hartford Superior Court Judge Elizabeth Bozzuto.
Taupier, was on house arrest during the podcast while he appeals his conviction, described how close he came to murdering police officers when they came to his home to check on the welfare of his children after his ex-wife contacted police.
"It's a good thing I didn't have a firearm that I borrowed from a friend," said Taupier, who added, "because I probably would have blown every cop that was on the front steps away, dragged their bodies to the street, and burned'm."
Grazzini-Rucki later followed up on Taupier's angry comments by again focusing her threats on the families of law enforcement, judges, and court staff.  "You start making it personal," said Grazzini-Rucki. "When it starts affecting their families then they will wake up and stop," she added.
Grazzini-Rucki critical of proclamation designating April as National Child Abuse Prevention Month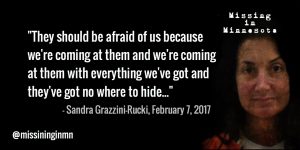 In April, Grazzini-Rucki strongly criticized the proclamation designating April 2017 as National Child Abuse Prevention Month by President Donald Trump.
"I think it is our obligation to inform our president, who I believe can make some changes, that all these people that he is giving credit to don't deserve the credit and in fact, except for a very few individuals… they've done nothing but harm children more, and I'm including CPS, foster parents, government workers, police departments, lawyers, and judges. They have single-handedly destroyed our children, and the future of America."
April has been designated National Child Abuse Prevention Month by every president since 1983.
Grazzini-Rucki boasted she has violated other court orders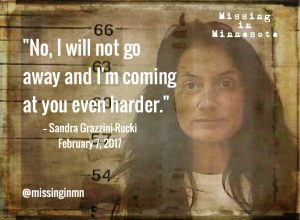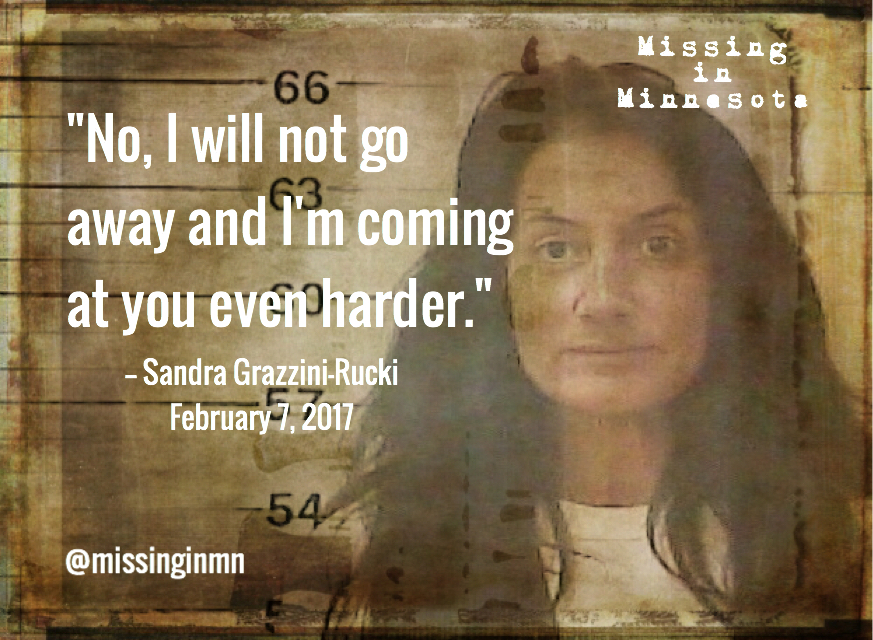 Grazzini-Rucki took to the airwaves in last December to boast in a radio interview that she had violated court orders by communicating with additional people who were criminally charged related to the disappearance of her two daughters.
Judge Karen Asphaug, who presided over Grazzini-Rucki's criminal case, and had the same role in the criminal proceedings of Dede Evavold, along with Doug and Gina Dahlen, issued court orders which prohibited any contact between Grazzini-Rucki, Evavold, and the Dahlens.
Grazzini-Rucki admitted last December that she had recently spoken with the Dahlens in violation of the court's order. She also acknowledged speaking with Evavold.
Despite the specific instructions from the court prohibiting communications, evidence collected over the last few months show Evavold and Grazzini-Rucki have remained in contact.
Since she was sentenced in September 2016, two separate arrest warrants have been issued Grazzini-Rucki for violating the conditions of her probation. Before Grazzini-Rucki left jail last October, her criminal defense attorney, Stephen Grigsby, issued a blunt warning to the public that Grazzini-Rucki had "no intentions to comply with probation."
Follow Missing in Minnesota on Twitter and Facebook for updates on Grazzini-Rucki's failure to report to jail.