Weeks before the release of a new book about her role in the disappearance of her daughters, Sandra Grazzini-Rucki has filed another fraudulent harassment order against one of the book's authors, Michael Brodkorb.
Earlier today, the Dakota County Sheriff's Office served a Temporary Injunction for Protection Against Stalking on Brodkorb at his home in Eagan, Minnesota. The petition was filed in Pinellas County, Florida by Sandra Grazzini-Rucki on September 26, 2018. Grazzini-Rucki moved back to her home in Florida this past June.
Grazzini-Rucki was convicted in 2016 on six counts of deprivation of parental rights for her role in the disappearance of her daughters.
In the petition requesting the injunction, Grazzini-Rucki falsely claims Brodkorb recently followed her, in Florida, in a black vehicle with Minnesota license plates. Brodkorb does not own a black vehicle, nor has he never been to Florida. Brodkorb was in Minnesota during the time Grazzini-Rucki claimed he was in Florida. Also in the petition are claims that Brodkorb has cyberstalked Grazzini-Rucki.
A court hearing on the petition filed by Grazzini-Rucki is scheduled for next Friday, October 12, 2018, at 10:30 AM in Clearwater, Florida.
Grazzini-Rucki has a pattern of filing fraudulent harassment restraining orders
This is not the first time Grazzini-Rucki has attempted to obtain a Harassment Restraining Order against Brodkorb.
In September of 2016, just before she was scheduled to be sentenced for her role in the disappearance of her daughters, Grazzini-Rucki fraudulently filed a request for an HRO in Washington County, Minnesota. The order was subsequently dismissed due to Grazzini-Rucki's use of a false address on the application. Grazzini-Rucki lied in the petition in 2016 as well. She claimed Brodkorb followed her in an "orange minivan" though he does not own or drive an orange minivan.
David Rucki, Samantha and Gianna Rucki's father said tonight, "after all my family has endured it is difficult to see the attacks turned on Michael."  Rucki added, "his work was instrumental in bringing my daughters home. I believe it is because of this that he is being retaliated against. I truly hope he receives the same support he gave to me in his own fight."
New book on the disappearance of Rucki sisters to be released October 23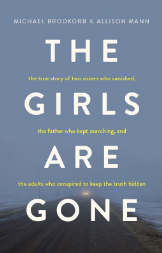 Last month, Brodkorb and Allison Mann announced the upcoming release of their book, The Girls Are Gone which provides new details about the disappearance of Samantha and Gianna Rucki and the adults who conspired to keep the missing sisters and the truth hidden.
During the last two years, Brodkorb and Mann have analyzed court documents, reviewed investigative files, and conducted numerous interviews to provide a completed story about how and why two children vanished from their family and friends for 944 days. The Girls Are Gone includes interviews with members of the Rucki family, including exclusive interviews with Samantha and Gianna Rucki.
The Girls Are Gone will be published by Wise Ink Creative Publishing and will be released on October 23, 2018.
Rucki family believes fraudulent harassment order is retaliation
During her criminal trial, Grazzini-Rucki testified that she had been repeatedly "dishonest" when she previously testified under oath in her divorce and custody proceeding. Since being convicted, Grazzini-Rucki and her supporters have continued their behavior of making false allegations against David Rucki, his family, the media, law enforcement, and the judiciary.
As the record of documented lies continues to build, the statements and accusations from Grazzini-Rucki and her supporters have become more outrageous and untruthful. A page has been published on Missing in Minnesota to provide verifiable facts and primary source documents to refute false statements and fabricated incidents made by Grazzini-Rucki and her supporters: Fact vs. Fabrication.
David Rucki's sister Dr. Tammy Love said in a statement tonight that she believes Grazzini-Rucki's is retaliating against Brodkorb.
Michael has sustained repeated attacks over the course of his time reporting about my family. There is no doubt this is related to his work that helped to bring my nieces home. This recent attempt to stop him from reporting is retaliatory. My family and I stand behind Michael in all of his efforts and hope he continues to shine the light on the true story.
Please follow Missing in Minnesota on Twitter and Facebook for updates on Grazzini-Rucki's latest legal drama.
Below is the complete petition filed by Grazzini-Rucki and served on Brodkorb today.