A supporter of Dede Evavold, Sandra Grazzini-Rucki, and Michelle MacDonald was contacted by law enforcement after targeting Allison Mann in recent days with harassing and sexually obscene messages.
Michael Volpe, a self-described "investigative journalist" based in Chicago, Illinois, was contacted by the Lakeville Police Department after Mann reported Volpe's repeated, unwanted, and harassing communications.
Despite being instructed by Mann to cease all contact, Volpe continues to contact Mann with unwanted and harassing messages. In one email, Volpe admitted he was "harassing" Mann and requested to "make a deal" about Grazzini-Rucki.
Volpe has previously disseminated propaganda for Evavold, Grazzini-Rucki, and MacDonald masquerading as news. Many of Volpe's stories published about Grazzini-Rucki have been retracted or corrected after being published due to factual inaccuracies contained in the stories.
Last December, Volpe participated in an interview with Grazzini-Rucki where she claimed a federal agent with the United States Marshals Service, posing as a plumber, had placed her in protective custody and she was living in a safe house in an undisclosed location.
Grazzini-Rucki was not in protective custody, but rather she was living in a waterfront estate community in Florida.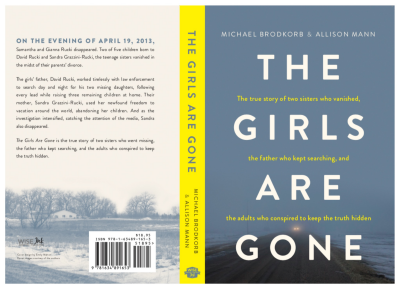 Volpe harassing and unwanted communications to Mann made repeated references to her new book  –  The Girls Are Gone – which details Grazzini-Rucki's involvement in the disappearance of her daughters Samantha and Gianna Rucki.
The book details the events which led to Grazzini-Rucki abducting her daughters on April 19, 2013, during a custody dispute with her ex-husband, David Rucki. On November 18, 2015 – 944 days after they disappeared – the girls were found living on a ranch in northern Minnesota by law enforcement, headed by the Lakeville Police Department.
Since being released in October, The Girls Are Gone has been a commercial and critical success. The Kindle Edition of The Girls Are Gone is currently listed on Amazon's Best Selling True Crime Biographies. The Girls Are Gone is published by Wise Ink Creative Publishing.