A fundraiser hosted by Pizza Ranch to benefit a ranch where two missing sisters were held for 942 days was abruptly canceled after widespread public outrage.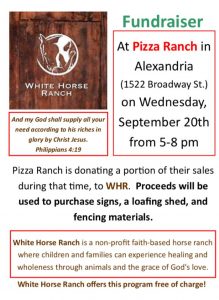 According to the promotional materials for the fundraiser, Pizza Ranch in Alexandria, Minnesota would be "donating a portion of their sales during that time" to White Horse Ranch, which is owned by Doug and Gina Dahlen.
Doug and Gina Dahlen were sentenced in May to one year in jail for their role in the disappearance of Samantha and Gianna Rucki from Lakeville, Minnesota.
Earlier today, the staff at Pizza Ranch confirmed they would be donating a portion of their sales to the White Horse Ranch. After being informed about the controversy surrounding the ranch and the criminal history of both Doug and Gina Dahlen, staff insisted the fundraiser would still be held.
But hours after Missing in Minnesota posted details about the fundraiser on Facebook, the event was canceled.
As of 6:00 pm last evening, the Facebook post published by Missing in Minnesota has been viewed by over 13,000 people with over 250 comments.
Dan Gray, the owner of Pizza Ranch where the fundraiser to benefit the White Horse Ranch was scheduled to be held contacted Missing in Minnesota this morning to apologize for scheduling the event.
"I apologize," said Gray, adding "if I ever do it again, I'll do a little more research." Gray noted that he hosts numerous fundraising events for the community each year.