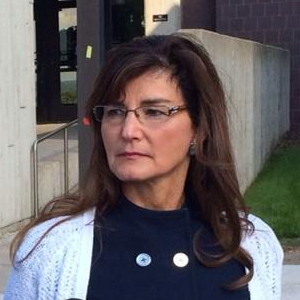 Michelle MacDonald serves as Sandra Grazzini-Rucki's family court attorney.
MacDonald was labeled in April 2015 as a "person of interest" by the Lakeville Police Department in the disappearance of Samantha and Gianna Rucki.  MacDonald refused to cooperate with the Lakeville Police Department's investigation into her possible involvement in the disappearance of the sisters  – even after public statements from her that she would cooperate in the investigation. Her criminal defense attorney, Stephen Grigsby, said in 2015 that he would advise MacDonald to not speak with the Lakeville Police Department.
MacDonald was replaced as Grazzini-Rucki's criminal defense attorney by Grigsby on November 18, 2015 – the same day the Rucki were found by the Lakeville Police Department.
While MacDonald claims she has been providing pro-bono legal services to Grazzini-Rucki, MacDonald has filed two attorney liens against Grazzini-Rucki for legal fees totaling $222,730.92.
In 2014, MacDonald was the Republican endorsed candidate for the Minnesota Supreme Court against Justice David Lillehaug. MacDonald lost to Lillehaug by just 7 points — 53 percent to 46 percent in November 2014.
In September 2014, MacDonald was found not guilty of drunk driving, but was found guilty of refusing to submit to breath testing and obstructing the legal process during a traffic stop in 2013.
MacDonald's campaign manager during her 2014 run for the Minnesota Supreme Court, Deirdre Evavold, was charged with six counts of felony deprivation of parental rights involving the disappearance of Samantha and Gianna Rucki. Evavold was listed as the chair of MacDonald's campaign until the spring of 2016.
Evavold was convicted in September on six felony counts of deprivation of parental rights related to the disappearance the girls.
In April 2016, both MacDonald and Grazzini-Rucki appeared in an episode of ABC's "20/20" which focused on the disappearance of the Rucki sisters.
At the end of the show, Grazzini-Rucki was asked by Elizabeth Vargas from ABC's "20/20" to provide any evidence to prove her allegations of abuse by David Rucki.
Both MacDonald and Grazzini-Rucki were unable to provide any evidence.
In 2016, MacDonald announced she would run again for the Minnesota Supreme Court, but she was not endorsed by the Republican Party of Minnesota after Republicans decided not to endorse judicial candidates.  MacDonald was soundly defeated by incumbent Minnesota Supreme Court Justice Natalie Hudson in November 2016.
Court rules MacDonald 'knowingly violated' campaign law
Just days before the election in 2016, Judge Jessica A. Palmer-Denig ordered there was probable cause to believe MacDonald violated the Minnesota Fair Campaign Practices Act by falsely claiming her campaign for the Minnesota Supreme Court had received the endorsement of the Republican Party of Minnesota.
In December 2016, a three-judge ruled MacDonald  "knowingly violated" campaign law when she falsely claimed she was endorsed by a non-existent Republican organization. The judges with the Office of Administrative Hearings also imposed a $500 civil penalty against MacDonald.
MN Supreme Court referee recommends suspension of MacDonald's law license
An attorney complaint was filed against MacDonald in August 2016 related to her legal representation of Grazzini-Rucki in family court.
A judicial referee appointed by the Minnesota Supreme Court later recommended that MacDonald's law license be suspended for a minimum of 60 days, followed by two years of probation, which would include a mental health evaluation.
MacDonald received her law degree from Suffolk University and is an attorney with MacDonald Law Firm.