Kimberley and Jay Bukstein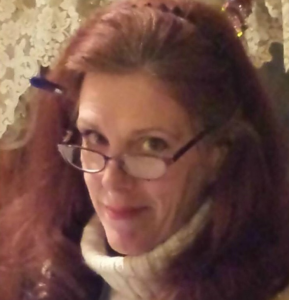 Kimberley Bukstein is a self-described "civil-rights advocate" connected to Sandra Grazzini-Rucki and her supporters. Bukstein is being labeled a "conspirator" because of her association with  Sandra Grazzini-Rucki, Dede Evavold, Michelle MacDonald, and Angela Young.
Most recently, Bukstein sent repeated threatening and harassing communications in an attempt to shut down Missing in Minnesota.
Kimberley Bukstein connected to Evavold, Grazzini-Rucki, MacDonald, and Young
Kimberley Bukstein has worked over the years with Dede Evavold, Grazzini-Rucki, Michelle MacDonald, and Angela Young.  Bukstein filed complaints in 2013 against nearly every licensed professional involved in the divorce between Sandra Grazzini-Rucki and her ex-husband, David Rucki.
Bukstein was pictured (wearing turquoise) with Angela Young (far right), Dale Nathan, and Dede Evavold outside the Stearns County Courthouse in 2015.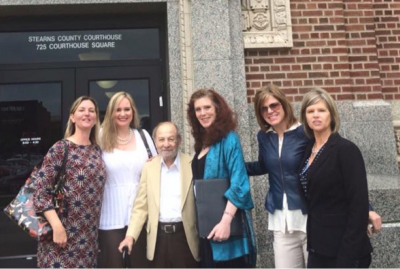 Nathan, who told the Star Tribune in April 2015 that he was in a car driven by Grazzini-Rucki on the night she abducted her daughters near the girls' home in Lakeville on April 19, 2013, died in 2016.
In July 2016, Grazzini-Rucki was found guilty on six counts of deprivation of parental rights for her role in the disappearance of her daughters and Evavold was convicted in September 2016 of six felonies for her role in the disappearance of Grazzini-Rucki's daughters.
In September 2016, Young's name was mentioned in open court during Evavold's criminal trial related to incriminating communications between Evavold, Grazzini-Rucki, and Young sent while the Rucki sisters were missing for 944 days.
In February 2018, Evavold voluntarily testified in an emergency court hearing about her repeated harassment of David Rucki and his family and said Young published posts on her blog under Evavold's name.
Michelle MacDonald cited one of Bukstein's complaints in her federal lawsuit against Judge David Knutson.
Young has sent numerous text messages to Missing in Minnesota, threatening a lawsuit should her name be published about her involvement with Evavold, Grazzini-Rucki, and others connected to this case.
Young lives in St. Cloud and she is a licensed marriage and family therapist (LMFT) and works for CORE Professional Services, P.A in Sartell, Minnesota.
Kimberley and Jay Bukstein bombarded Missing in Minnesota with threatening and harassing communications
Starting on the evening of April 19, 2018, and last for over two weeks, both Kimberley and her husband Jay, began sending threatening and harassing communications to Missing in Minnesota.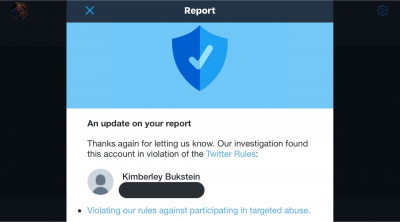 The Buksteins made phone calls, sent emails, and used Twitter to target the writers for Missing in Minnesota.
Twitter later suspended Kimberley Bukstein's account for violating Twitter's rules "against participating in targeted abuse" after she sent 17 abusive messages in just two hours in the early morning hours of April 29, 2018.
Jay Bukstein's Twitter account was suspended in September 2018 for violating Twitter's rules "against managing multiple Twitter accounts for abusive purposes."
Both Jay and Kimberley Bukstein are "qualified Rule 114 ADR Neutrals" for the Minnesota State Court Administrator's Office.
Harassment Restraining Orders Granted against Kimberley and Jay Bukstein
In May 2016, a Harassment Restraining Order (HRO) was granted against Kimberley and Jay Bukstein by a woman in Sherburne County. The Buksteins were alleged to have made repeated unwanted visits and phone calls.
In October 2017, a HRO was granted against Kimberley Bukstein by a 73-year-old woman in Ramsey County. Bukstein was accused of making unwanted phone calls and leaving messages. The woman testified that Bukstein walked into her home unannounced and uninvited.
Kimberley Bukstein sued for allegedly filing false police & child protection reports
According to a lawsuit filed on December 7, 2017, Bukstein is one of three people and two organizations being sued for making "numerous reports to various government agencies (i.e., police, child protection) alleging false allegations against Plaintiffs. Plaintiffs seek judgment per Minnesota Statutes prohibiting malicious reporting and in defamation."
A trial was scheduled for January 2019 for the lawsuit filed against Bukstein and others in Ramsey County District Court, but the lawsuit was settled out of court.
Kimberley Bukstein fined $10,000 for the unauthorized practice of law; Judge testified she was dangerous
In 2013, Bukstein was fined by the Board on the Unauthorized Practice of Law of the Supreme Court of Ohio for practicing law without a license in two divorce cases in Ohio. The original fine against Bukstein was $20,000 – the maximum civil penalty permitted by law.
The amount was later reduced to $10,000 by the Supreme Court of Ohio.
According to a report issued on Bukstein's conduct, Bukstein described herself as a "Civil Rights from Minnesota that works on cases all over the nation." Bukstein added that she "specializes in ethics issues arising in litigation and government litigation."
Bukstein identified herself as a "pro se attorney of record" and sat at counsel table during a court until she was asked to remove herself from the table because she was not an attorney.
Judge Thomas J. Capper "testified that he believes [Kimberley Bukstein] is a dangerous person who preys upon individuals susceptible to influence and gives people horrible advice."
The board's report also detailed that Bukstein sent "harassing and potentially threatening emails to individual members of the Panel and making threats to file numerous complaints with various government agencies against the individual panel members and disciplinary counsel."
Kimberley Bukstein facing criminal charges in North Carolina for making harassing phone calls
Missing in Minnesota uncovered that Kimberley Bukstein was criminally charged in North Carolina last year with making harassing phone calls. Bukstein's criminal case is currently pending.