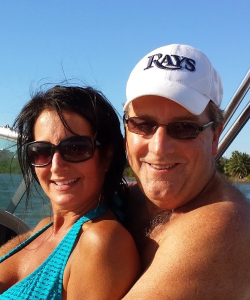 John "Jack" Auld is flight attendant with American Airlines who has dated Sandra Grazzini-Rucki, according to court documents.
Auld was with Grazzini-Rucki at the Star Island Resort and Club in Kissimmee, Florida, when Grazzini-Rucki was arrested on October 18, 2015.
Since Grazzini-Rucki's arrest, Auld has been active on Facebook. Auld has defended Grazzini-Rucki, attacking law enforcement and parroting the talking points of Grazzini-Rucki's defenders. Auld has also posting pictures of him with Grazzini-Rucki at the Stanley Cup Finals, NASCAR events, and traveling – taken while Grazzini-Rucki's daughters were missing and living on the Dahlen's ranch in Herman, Minnesota.
Auld has described Grazzini-Rucki as his "best friend" and "soul mate."
Auld has not been charged by law enforcement for his involvement with Grazzini-Rucki or related to the disappearance of Samantha and Gianna Rucki.
Picture source: Facebook