UPDATE: The Dahlens have been granted an early release from jail. We'll have more information soon on Missing in Minnesota.
Doug and Gina Dahlen, who pleaded guilty for their role in the disappearance of Samantha and Gianna Rucki, filed a request with Dakota County to be released from jail tomorrow, after serving only 20 days in jail.
On May 2, 2017, Doug and Gina Dahlen were each sentenced to one year in jail by Judge Karen Asphaug. The Dahlens' full jail sentence was stayed, pending the successful completion of two-years probation, and after they served 31 days in jail – one day for each month the Rucki sisters were held at their ranch in Herman, Minnesota.
But in a motion filed yesterday with Dakota County, the Dahlens' attorneys requested that Doug and Gina Dahlen be released from jail on Friday, June 2, 2017, after serving only 20 days of their 31 day sentence in jail.
The Dahlens are serving their jail sentence in Traverse County and according to public records, the Dahlens are currently scheduled to be released from jail on June 13, 2017.
Dahlens want credit for good behavior in jail
In the request to be released from jail, which was filed by the Dahlens' attorneys Travis Keil and Kyle White, they argue the Dahlens' sentence should be reduced to account for good behavior while in custody.
Keil and White argue that state law provides inmates with the right to decreased sentences based on "good conduct." In additional correspondence filed with the motion pleadings, the attorneys for the Dahlens stated "had the court intended that they serve 31 actual days in custody, this court should have imposed a sentence with good conduct factored in."
Judge wanted Dahlens to serve 31 days in jail
During the Dahlens' sentencing hearing, Judge Asphaug was clear in court that she did intend for the Dahlens to serve "31 actual days in custody," going so far as to detail that the 31 days in jail represented one day for each month that Samantha and Gianna Rucki were held at the Dahlens' home in Herman, Minnesota.
Judge Asphaug has been deliberate and pointed in her sentences for each of the four defendants convicted for their roles in the disappearance of the Rucki sisters.
Each defendant was assessed fees representing the 944 days the two girls were missing. She also required return jail sentences for both Sandra Grazzini-Rucki and Dede Evavold starting on November 18th of each year, the anniversary of the day the girls were found on the Dahlens' Ranch.
Questions unanswered about Dahlens compliance with jail sentence 
In order to be granted credit for good conduct, a person must not have violated any rule of the place where the person is incarcerated. As the Dahlens are requesting to be released from jail early for good behavior, questions remain unanswered regarding Doug Dahlen's compliance with the conditions of his jail sentence and work release.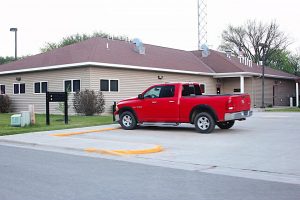 It has not been clear since their first date of incarceration whether or not the Dahlen's were in compliance with Judge Asphaug's sentencing order when they reported to Traverse County Jail rather than Dakota or Grant Counties as ordered by Judge Asphaug.
The Dahlens were scheduled to report to jail on May 16, 2017, at 9AM in either Dakota County or Grant County.
But after failing to report to either jail facility, it was later discovered by Missing in Minnesota that the Dahlens had reported to jail in Traverse County. The jail in Traverse County is located in Wheaton, Minnesota and after traveling to the jail, Missing in Minnesota was able to confirm that Doug and Gina Dahlen were in custody.
Court hears how Dahlens failed to provide Rucki children access to medical care
During both of their victim impact statements, David Rucki and Dr. Tammy Love spoke to the lack of medical care provided to Samantha and Gianna Rucki by the Dahlens during the 942 days they were held at the Dahlens' ranch.
Dr. Love provided insight into the lack of routine medical care needed by children in their teenage years while David Rucki detailed the medical conditions of the girls upon their return home. He went on to describe multiple painful reconstructive medical procedures that were required due to the maltreatment they endured on the Dahlens' ranch.
Future of the White Horse Ranch in doubt
Doug and Gina Dahlen live at the White Horse Ranch, located in Herman, Minnesota. The 162-acre property which includes the White Horse Ranch has been the subject of a dispute between Dahlen and his second wife, Pamela Nelson.
Court documents from Dahlen's divorce from Nelson in 2009, the rural Minnesota property was to be sold with the proceeds being divided between Dahlen and Nelson. On November 3, 2014, the court ordered Doug to "vacate the property" if it had not been sold within six months. Doug was also provided with the option of purchasing Nelson's interest in the property.
According to recent court filings, the listing of the property allowed for the cancellation of an evidentiary hearing that had been scheduled relative to Dahlen's failure to comply with orders to vacate or buyout Nelson's interest in the property.
The White Horse Ranch is currently for sale, and the ability of Doug and Gina Dahlen to work with children remains in doubt. Related to the operation of the ranch, Gina Dahlen previously testified in court that the White Horse Ranch has not been licensed to provide therapy to children.
A review of multiple regulatory agencies showed that no licenses or accreditation have been issued to either Doug or Gina Dahlen, or the White Horse Ranch for therapy or treatment of children, or to practice equine therapy.
Missing for 944 days
On November 18, 2015 – 944 days after they disappeared – the girls were found living on a Dahlen's ranch by law enforcement, headed by the Lakeville Police Department. In total, Samantha and Gianna were held at the White Horse Ranch for 942 days.
David Rucki was awarded full custody of all five of his children in November 2013, while two of his daughters remained missing. David Rucki was reunited with his daughters days after they were found on a rural ranch in northern Minnesota. They live with him and their other siblings at the family's home in Lakeville.
The Dakota County Attorney's Office charged four adults for their involvement in the disappearance of the Rucki sisters for 944 days.
Sandra Grazzini-Rucki, the girls' mother, was convicted in July 2016 on six felony counts of depravation of parental rights.
Dede Evavold, a friend of Grazzini-Rucki,  was found guilty in September on six felony counts of deprivation of parental rights related to the disappearance the girls.
The decision by Doug and Gina Dahlen to plead guilty ensured that Assistant Dakota County Attorney Kathy Kenna successfully prosecuted all of the people criminally charged related to the disappearance of the Rucki sisters.
This is a developing story, so please check back to Missing in Minnesota for updates throughout the day.